STOPAN
Master Bookbinder at the Bulgarian National Crafts Chamber
I am fascinated by pre-printing press book structures and incorporate much of their valuable properties into my designs. I do my best to pay homage to the old Bulgarian decorative traditions and use them as a base. My biggest ambition is to continue to fuse my love for writing and bookbinding expertise with my father's mastery of wood and silver to create contemporary but laden with history works of art and craft.
At the beginning of 2018, I was formally recognized by the Bulgarian National Craft Chamber as a master bookbinder. A goal I've been preparing for with constant trial and error, reading up literature and examining examples of bindings in our libraries' special collections, trying to deconstruct the methods of their making.
---
OUR INSPIRATION
I cherish the old bindings, made in monasteries by self-taught scribes. They managed to produce beautiful books that remain intact even centuries later. I admire the scale of these works, their rоugh structure, sincerity and undeniable toughness. Each page of these books is handcrafted, either from parchment or handmade paper, each letter carefully written, forever encapsulating the personal touch if its maker. I strive to re-create this spirit in our artworks, altered by the time we live in, to give new breath to a severed tradition.
This holds true for our blank books as well. Made with a vocation to become a most trusted and treasured companion in writing, they are a functional object one can rely on and bond with.
---
Ivo Daskalov
My Father, the Silversmith, Wood Carver and Gem Setter
My father joined the work in 2018 and in his small jeweler's workshop, he creates unique pieces of jewelry, pens, corners, clasps and fittings from precious metals. Again, working by traditional methods, each piece of metal worked by hand and of his original design. We share the belief and somewhat the naivete, that the most sincere way to work is the old way – many hours spent in devotion to our chosen materials.
---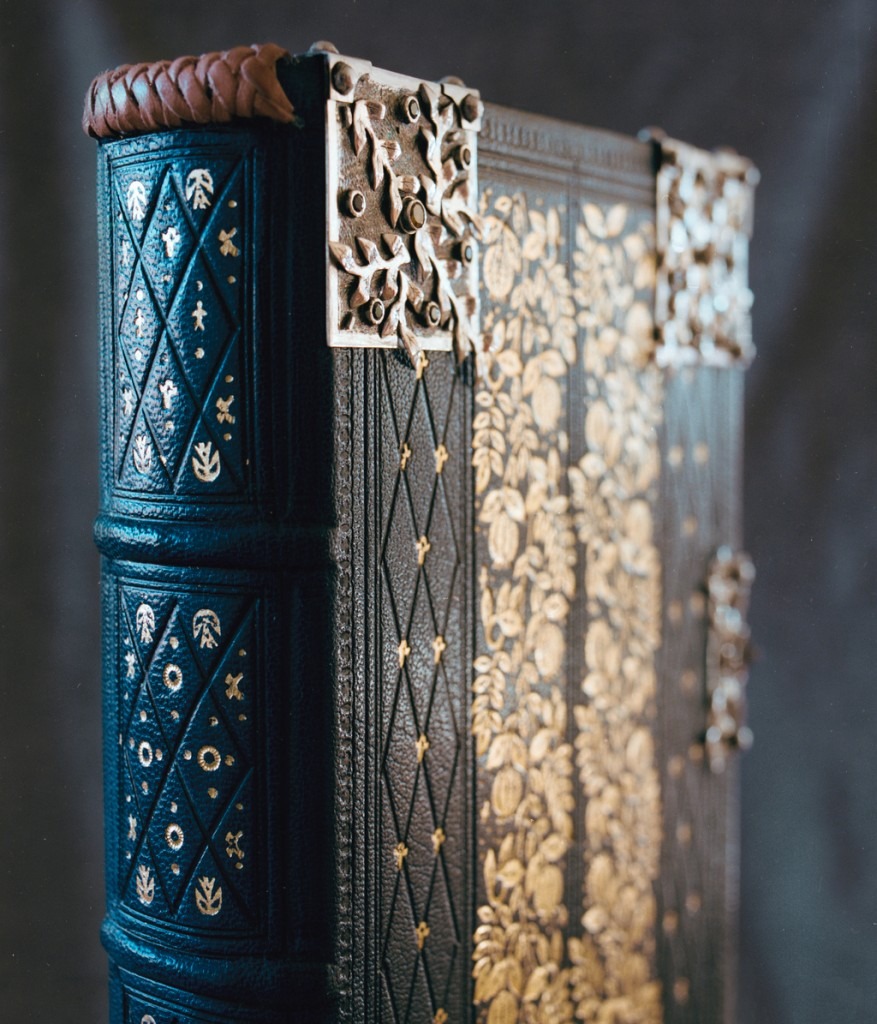 ---
OUR WORK
Our background is in craft and we are bound to what we've learned through it. Each of us brings our own insights into our work, but we share the common goal of manifesting our vision of beauty and durability into art or craft form.
The rugged pieces of stationery are handcrafted with longevity and significance in mind. We embrace roughness in the design, as we believe it strengthens the connection between the book and person. Each of us finds ourselves in the positive as well as the negative. Our clients are visionaries who wish to leave a trace of their history and accomplishments for the generations ahead. Our works help to create a very personal heritage piece, worthy of passing down.
---
ARTWORKS
Giving New Life to the Root
Our artworks are always conceptually revolving around bottomless well of folklore and its decorative traditions, so abundant in our lands. We're trying to tap into the mind of the simple villager from the past who had an an extraordinary tool set for creating symbols in the form of rituals and spiritual belief, a well as through their helpful objects in everyday life.
The works themselves are often beyond the realm of function and cautiously play with the boundaries of the book form. Through them we make an active dialogue with the past and a broken tradition. We create a tangible proposal on how it could be continued by being influenced not only by our national book treasures, but also the genius of the old Bulgarian master stonemasons, goldsmiths, carvers, potters, weavers and others.
This reimagining would not have been possible without the contribution of the many foreign master bookbinders who have developed this craft over the centuries in which we have not. We inevitably pay tribute to them in the most respectful way possible.
---
---
CRAFT OBJECTS
For the Blank Book to be Yet Again a part of Leisure
Strength and beauty are always at the forefront of our designs. Such ambitions leave little room for compromise. Me and my father share a passion for historical methods of working, meaning mostly with our hands and various useful hand tools, tried and tested for their effectiveness centuries ago.
---
---
---
---
WRITING INSTRUMENTS
Completing the Experience
In the summer of 2019 we decided to expand our work to include a range of dip pens to go along with our journals. My father started studying and experimenting with a new material – wood. We gathered a range of exotic pieces to try out and produce our first collections of pens.
The wood is cut and sculpted by hand with files or by a lathe. When the shape is done, a silver fitting is designed and executed to adorn and balance the pen. The wood is treated with a special selection of natural oils and waxes and some are finished with layers of shellac lacquer. The pens can adopt any nib with a standard 5 mm size. Providing choice and comfort to the customer. As with our books, each pen is a unique piece of work, never to be replicated.
---
Materials We Use
We use a wide selection of quality hard woods for to make the bases of the pens, mostly Mahogany, Rosewood, Walnut, Ebony and Bocote. We are also constantly in search for special local materials for our more artistic projects. The fittings are usually from sterling silver, sometimes adorned with compliments of gold and gemstones.
---
A MOST APPROPRIATE ADDITION TO ANY JOURNAL
These dip pens and writing sets are the perfect companion for a passionate writer or calligrapher. We strive to create them beautiful and comfortable. For this reason, we listen to our customers' habits and preferences when using a pen to help us provide the perfect writing tool for a particular hand.
---
---
Explore Our Work