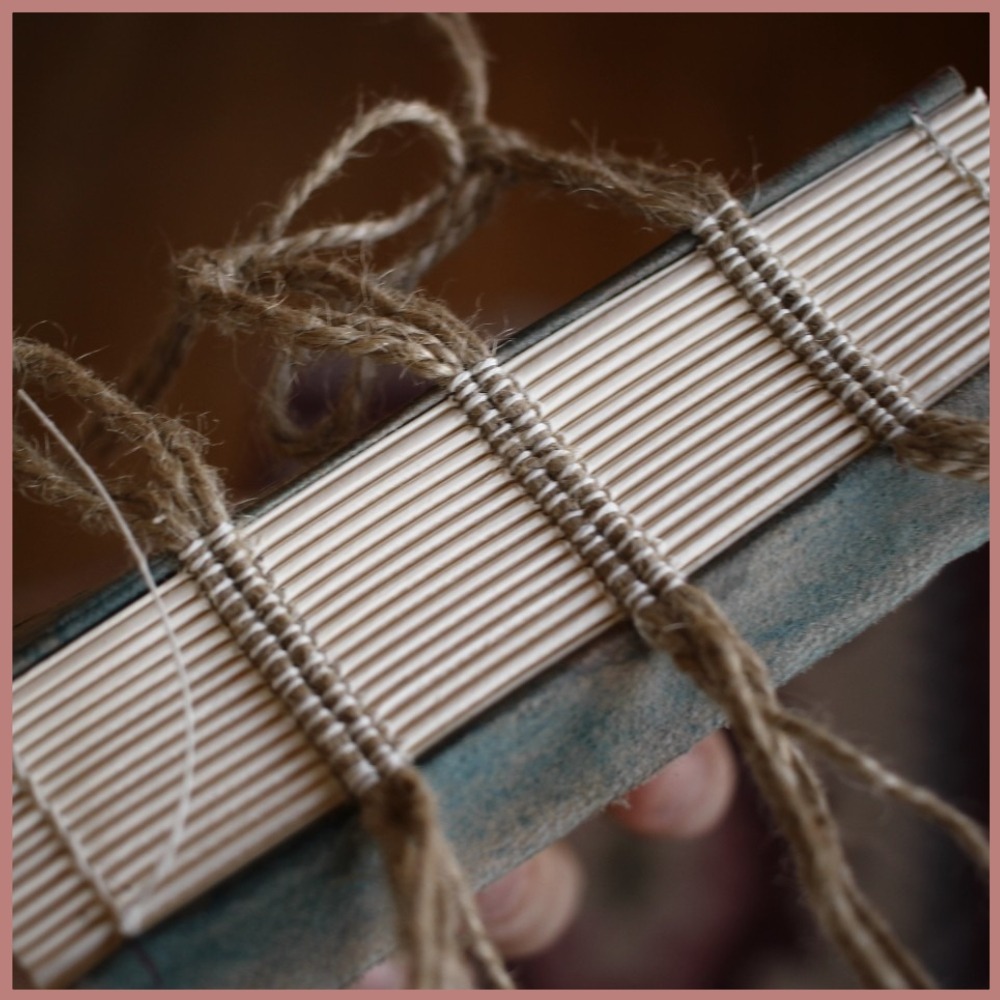 Considering bookbinding? A short first-step guide.
Over the past year I've received many questions on how exactly to start learning bookbinding, what tools are needed, what books are best for learning and so on and so forth. I've generally responded sparingly with a few tips and links to resources but it's about time I expand on that and offer a more substantial piece of advise for those of you who are considering bookbinding as a hobby or even profession.
Firstly, a thank you is needed for those of you who felt something when seeing my work, so much that have felt inspiration to take up the needle and thread themselves. It's a very humbling feeling, even though I'm still in my early stages of the craft and still have a lot of soul searching and skill refinement to be doing.
With that taken care of, keep in mind that bookbinding has many many faces. Be it in the form of restoration work, portfolio work, period bindings, fine binding, design binding, artist books, hobby works and many more. Much of the manifestations of this profession are as diverse as the people who practice them and bring them to life. Each of them requires different education, training, tools and mindset even.
Most of you asking for advice just want the basic means to make a book of your own and the thought of specialization and evolution of the practice comes after these few tries.
Find a bookbinder near you!
I strongly recommend that if you have a professional binder in your area, just stop reading this text and go straight to them. You'll receive the much needed personal attention and opportunities to see how exactly things are and should be made. Self teaching is a high risk endeavor of forming incorrect habits and producing improper pieces of work. Self teaching could provide you with an unique insight into things, however most probably it will stunt your potential to develop in the most optimal way.
Make yourself a journal
Do yourself a favor and don't ruin your books when making these first attempts. I'm speaking from the heart here as I did this mistake when I was starting out and irreversibly and irresponsibly destroyed a couple of otherwise good books. Leave it for a few years in the future.
A simple journal requires not more than folded paper, sewing thread and some sort of covering material.
Tool wise you, would require only cutting instruments, a ruler, needles and maybe а bonefolder to help you in the folding process. There are many structures that can be created with simple skills and tools such as Coptic stitch bindings, long stitch bindings, limp bindings and others.
Sea Lemon is a wonderful YouTube channel with many tutorials on these simple structures. Be sure to view some of them here:
My first journal was done this way with recycled copy paper and hard leather covers and still holds fast after years. I had no other equipment that what I mentioned above.
Meanwhile, read up on the topic
There are amazing books in English, most of the in the public domain, which means free to read, download and print.
I most often recommend the collection of Handbooks on the topic of bookbinding, present in the digital library of the Gutenberg Project.
Two books there are a constant source of knowledge and reference for my work:
Another beautiful example, covering the vast topic of Medieval bookbinding structures is:
The Archaeology of Medieval Bookbinding. J. A. Szirmai (1999)
A more contemporary approach to bookbinding and in particular fine binding methods are most adequately showcased in:
Fine Bookbinding: A Technical Guide. Jen Lindsay (2009)
There are many more resources out there and you should take your time to find what is of particular interest to you and will be of most help to your personal projects.
Another tutorial channel on YouTube with slightly more complicated techniques is Bookbinder's Chronicle. You can see some of the most useful steps in book making there:
Tools of the trade
It won't take long after your first exposure to these books to realize that bookbinding has its own set of peculiar tools used to help out with certain tasks and achieve others that the human hand cannot.
Do not be discouraged by the vast majority of these tools. If not inherited, building up a properly set up bindery takes time and is sometimes a process that could take a lifetime. Financially, it is a serious matter. Bookbinding is a niche business and so is the tool making supplying it. Most tools tend to be quite expensive. The good news is you won't need most of them in the beginning and those you can't afford you can try to make up by producing them yourselves. My first sewing frame and laying press were made by myself in the basement from old furniture using a hammer and some power tools.
I was more than happy in those early days. This humble set of tools did an excellent job and was quite suited for my fairly new hobby.
Depending on where your interests lie at this moment, your next step after the needles and bonefolder would be to acquire a sewing frame, a laying press and proper knives for paring and cutting leather. A nipping press would be very helpful as well but if you don't have the means of acquiring one, boards and weights would help out as well. If you don't wish to use leather for your projects, you could skip the knives and get a hold of whatever you need to make your projects come true.
I'll recommend some of the vendors I most frequently use or know to be reputable:
EUROPE
General Suppliers
Wooden Equipment
Bookbinding Supplies: https://www.bookbinding-supplies.co.uk/
Bovenwerk Bookbinding: https://www.etsy.com/shop/BovenwerkBookbinding
Olive and Oak: http://oliveandoak.com/
Brass Decorative Tools
Bookbindesings: http://bookbindesigns.co.uk/
Maison Alivon: http://jb-alivon.com/1.aspx
United States
Unfortunately, my knowledge of US suppliers is limited.
General Supplies
Talas: https://www.talasonline.com/
Hollander's: https://www.hollanders.com/
Tools
Jeff Peachey: https://jeffpeachey.com/knife-catalog/
Brien Beidle: http://www.beidlermade.com
Have a look at Society of Bookbinders' Useful Links list as well at: https://www.societyofbookbinders.com/about-us/useful-links
Leather
If working with leather is one of your priorities, you'll need to be aware of what works best for bookbinding. Generally, you'll want to look for these qualities:
Thin
Vegetable tanned
Full grain
Goat / Calf skin
Drum dyed (or undyed)
Minimally finished.
A bit more clarification. The tanning converts the skin into proper usable leather material that doesn't rot, you'll generally want vegetable tanned leather for optimal tooling and paring properties. Chrome tanned leather will not take tooling.
Do not underestimate the dyeing method. Drum dyed is ideal for books and you want the dye to completely penetrate the entire skin. Another excellent option is to get yourself undyed and dye it yourself.
Finishing is the process of sealing the dye onto the leather. You'll want leathers with preferably minimal finish, again for tooling.
Leathers come in different qualities and grains. You'll want either full grain (best) or top grain. In your search you may find genuine leather or grain corrected leather and bonded leather, but they are not used in bookbinding. top grain is workable, but there's nothing like full grain leather.
Most often, the best leathers for bookbinding are from goat or calf, sometimes vellum is used, as well as sheep/lamb or pig. Be advised that pigskin has large hair follicles and that will impact the final result of any tooling. Goat and calf skins are the perfect mix of strength, beauty and pliability. Regarding weight or thickness, the leather should be thin as it will affect how to book handles movement on the joints and spine; 1 oz. or .4mm up to about 2oz/.8mm if you're comfortable with paring.
Supplying
Proper bookbinding leathers along with everything else, tend to be quite expensive. My first suggestion would be to set out in search of local tanneries in your area and have a good look at their stock. Keep in mind the qualities from the previous section and always take samples before purchasing whole skins. That way you can go home and do your series of tests to see whether this leather will by of use to you and will uphold your expectations.
On the international scene, I've compiled a short list of tanneries and leather merchants that offer the best bookbinding leather.
Great leather suppliers in Europe are:
J. Hewit & Sons: http://www.hewit.com/
Harmatan and Oakridge: http://www.harmatan.co.uk/leathers/leathers.html
Norcuir: https://www.facebook.com/norcuir/
And in the US:
Pergamena: https://www.pergamena.net/
Siegel Leather: https://siegelleather.com/
Look at other bindings and practice
My last two pieces of advice for today would be to use some of your free time to visit your local museum, libraries, institutes and their special collections departments and study first hand what and how books were made in the past. It's deeply inspiration experience, I assure you.
Everything else is practice. Some things can't be done even if you read how to do them a hundred times. The hands must experience all the different steps and processes when creating a book and be subjected to repetition in order to learn.
Conclusion
I hope you've find this article helpful. For any questions, you can feel most welcome to contact me using the contact page. If you're interested in purchasing any of my works, you can visit the shop here: https://www.iostopan.com/shop
Be up-to-date with upcoming projects, commission availability and when new collections go live for sale. Subscribe to the mailing list: https://tinyletter.com/Stopan
Other social links for more information:
Instagram: https://www.instagram.com/iostopan
YouTube: https://www.youtube.com/Stopan
Best regards!

STOPAN